Bessie Coleman
Pilot, Activist, Inspiration
Flying across America and halfway around the world at a time when the concept of anything heavier than air being able to lift off would make most people a little apprehensive, but Bessie Coleman scoffed at all adversity, prejudice, and fear itself.
She was born in Texas in 1892 to an African American mother and Native American father. One of thirteen children, Bessie Coleman's life was never destined to be easy. Yet, Coleman's life in the depressed town of Waxahachie was juxtaposed with the wonderment of the new era. In 1903, the Wright Brothers made their first flight on the Kitty Hawk and Coleman's destiny was already beginning to take shape.
After finishing high school, Coleman was determined to put herself through college. Her hard-won savings could only sustain her for one semester, and she then attended Burnham School of Beauty and Culture in Chicago. However, her life in the city was interrupted when a black man swimming in the Lake drifted into a whites only portion of the water and was killed for it. This resulted in a city-wide rampage that saw hundreds of African Americans beaten and killed by the white mob. This outbreak of astounding violence against African Americans sparked a fire in Coleman and she became determined to fight back against racism, sexism, and prejudice of all kinds.
Yet, Coleman knew that she would need a distinct way to bring attention to herself and her cause. She had always been fascinated by the concept of flight, and at the time the world's pioneer pilots were finding fame. Coleman made up her mind to become a pilot as well, but faced a major hurdle. No piloting schools in the U.S. accepted black students. Undeterred, Coleman taught herself French and was accepted to L'ecole d'aviation in Paris, the most prestigious flight school in the world. Two years later, Coleman was awarded her international pilot license.
Coleman returned to the U.S. as a star and began offering flight shows for grand audiences across the U.S. Within a year she was financially secure and able to purchase her own plane. She was the first African American woman and the first person of Native American descent to conquer the skies. Soon, newspapers and magazines took up her story and people across the country became enthralled by her tale. Her popularity was so great that she was cast in a movie; however, when she learned that her character would be portrayed in a way that she found demeaning, she walked off the set in indignation and refused to return. Even so, her popularity continued to grow as she did more and more air shows from coast to coast. Then, in 1926, Coleman attempted a flight from Florida to Texas during which her plane faltered and fell. She died without having met her ultimate goal of founding an aviation school for girls.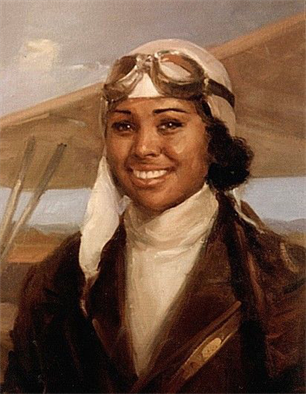 Even during her time, Bessie Coleman was seen as an inspiration for girls that aspired to be pilots in a world that continued to insist that their place was in the home. However, Coleman's achievements were especially important to African Americans and Native Americans. Coleman's return from France took place just after the Tulsa race riots, when white pilots flew over the city and dropped bombs on the African American population. Her entire life was played out against a background of extreme racism and sexism that often resulted in acts of horrendous violence. She was a pioneer during her time both of aviation and of activism and she deserves a place in the annals of history alongside Charles Lindbergh and Amelia Earhart.
NWHS strives for accuracy. Please contact us if you spot any mistakes in our work.
Art Notes:
Citations:
"Bessie Coleman." Encyclopedia of World Biography, www.notablebiographies.com/Co-Da/Coleman-Bessie.html.

"Bessie Coleman Biography." The Biography.com Website, www.biography.com/people/bessie-coleman-36928.

Borden, Louise. Fly High!: The Story of Bessie Coleman. New York: Margaret K. McElderry, 2001.

Fisher, Lillian M. Brave Bessie: Flying Free. Dallas, TX: Hendrick-Long Publishing Co., 1995.

Rich, Doris L. Queen Bess: Daredevil Aviator. Washington, DC: Smithsonian Institution Press, 1993.